SAFE Announcements and Events:
SAFE in the food press: Private Label International
A recent article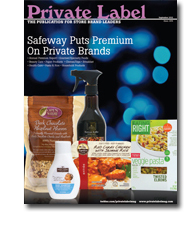 in Private Label International refers to the SAFE consortium in the first section and goes on to include a detailed interview with SAFE consortium Chairman of the Executive Board, Begoña Pérez Villarreal.
The article is part of a series on food safety by veteran freelance Paris-based journalist Colette Davidson.
The Price of Globalization. Read the article here (page 16).
Do you work for a SAFE consortium member institute?
Register as an Individual Member of the SAFE consortium and access Member's Only pages including downloads of documents and presentations, plus receive SAFE announcements directly by email !

Registration is simple. Send an email to the SAFE Scientific Secretary, Katherine Flynn, from your institution email address and include your three Food Safety interests.